Collabr is a new app that allows creatives to connect and collaborate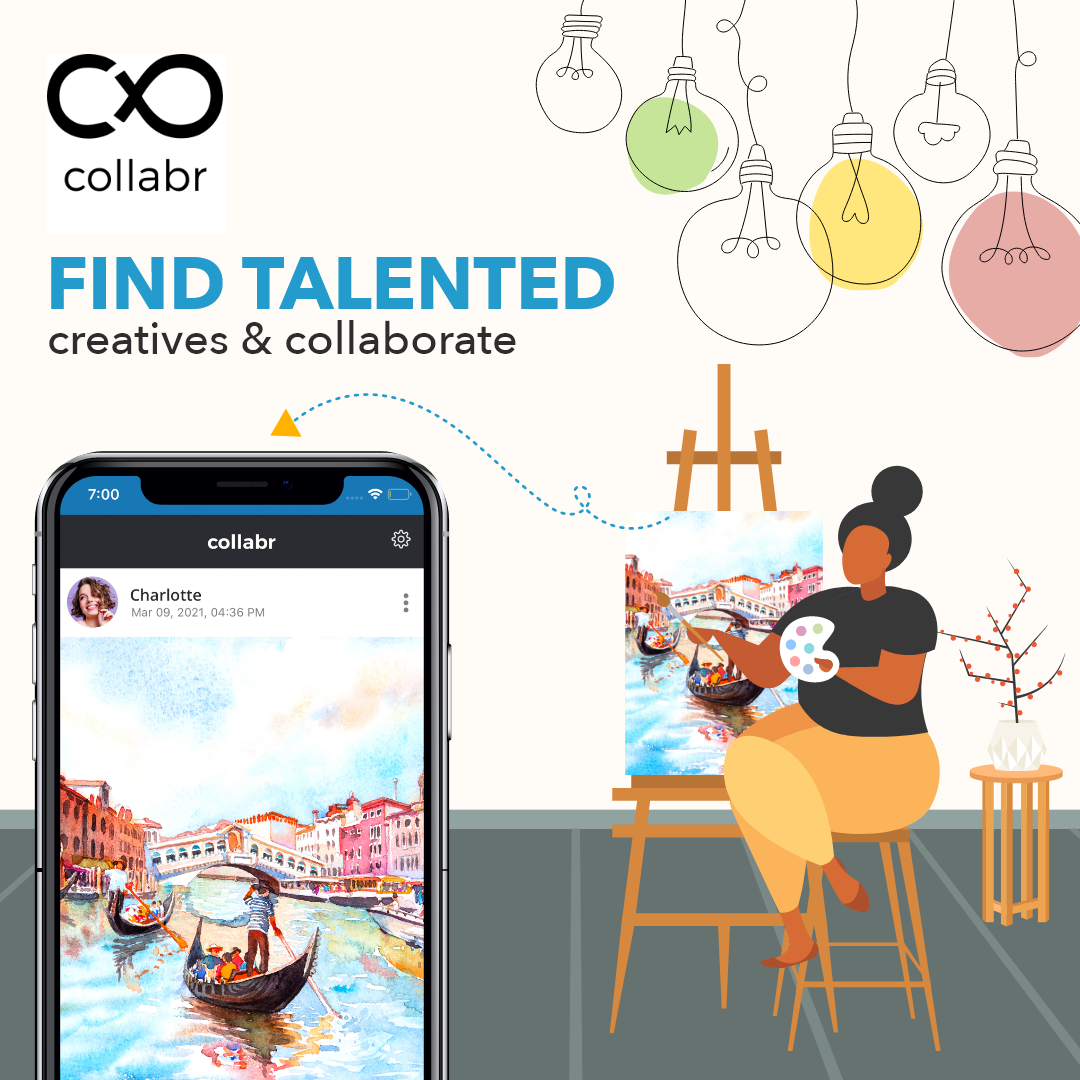 Collabr is a new creative social networking app. This app was made to help artists and creatives connect, build their portfolios, find new clients, and grow their fan base. Collabr makes it easy to search for the right talent and makes in-app editing a breeze with real-time collaboration.
Collabr is a new app uniquely designed for artists and creatives. This app allows creatives to connect, collaborate, and showcase their best work. Artists can build their portfolios, gain exposure to a large audience, and further their careers. Artists of any kind can jump on the platform and get started!
Collabr is also a great way to find talented artists and creatives to help with projects. It makes it easy to search for specific talents and to start collaborating with promising artists from all over the globe.
The app was created by professional artists looking for a way to help their community thrive in the competitive, unpredictable arts and entertainment industries. Collabr's features help artists and creatives overcome the industry's challenges and reach success.
Collabr's most notable features include:
Portfolio Building: Artists can upload their work to their personal portfolios, allowing them to prove their skills, attract talent-seekers, and acquire new clients. Collabr supports any type of photo, video, and audio file.
Search for Talent: Collabr's search features include geolocation and user hashtags, making it fast and easy to find specific talent. Users can search locally or internationally with the addition of user hashtags to further narrow the search.
Collab Requests: Connecting with other artists and creatives is a breeze on Collabr. Users can either send a collaboration request to a specific artist or post a request for creatives to view and respond to. Either way, you're sure to find and connect with the right artists for your project.
Real-Time Collaboration: The collab board allows users to chat, exchange files, and edit projects together. This makes it incredibly easy and efficient for two or more artists to collaborate on projects.
Collabr breathes new life into the creative industries, something that is desperately needed after the ramifications of COVID-19 on its survival. As creatives connect and come together on this platform, they can continue to pursue their passion for art despite the challenges caused by the pandemic.
Collabr also provides vital inspiration for creatives that need a little extra motivation. These artists can hop on the app to view the amazing creations their colleagues are working on. Observing the work of others can help spark new ideas and motivate one to get back to their own artistic projects; to keep creating.
Furthermore, artists who are already creating and sharing their work on the platform will be encouraged to continue their artistic pursuits as other users applaud, comment on, and share their posts. This provides a positive social experience that boosts confidence in artistic abilities.
While Collabr provides many benefits for creatives and talent seekers, the most important one is the opportunity to connect with other artists. These connections allow artists from all over the globe to join together, pool their talents, and inspire each other. This is key in ensuring the art and entertainment industries' continued existence with Collabr being there every step of the way.
Android Device Requirements:
Size: 36MB
Compatibility: 4.1 and up
Play Store Link: https://play.google.com/store/apps/details?id=com.collabr
iOS Device Requirements:
Size: 169.1 MB
Compatibility: iOS 10.0 or later for iPhone, iPad, and iPod touch; macOS 11.0 or later and a Mac with Apple M1 chip.
App Store Link: https://apps.apple.com/US/app/id1339792004
Media Contact
Company Name: Collabr
Contact Person: Joshua Strone
Email: Send Email
Phone: 9142829690
Country: United States
Website: https://www.collabrapp.com/