Industrial Air Compressor Market Size to Reach USD 53.88 Billion in 2030- Rising Demand for AC in Mining Industries is Driving Industrial Air Compressor Market Revenue Growth, Says Reports and Data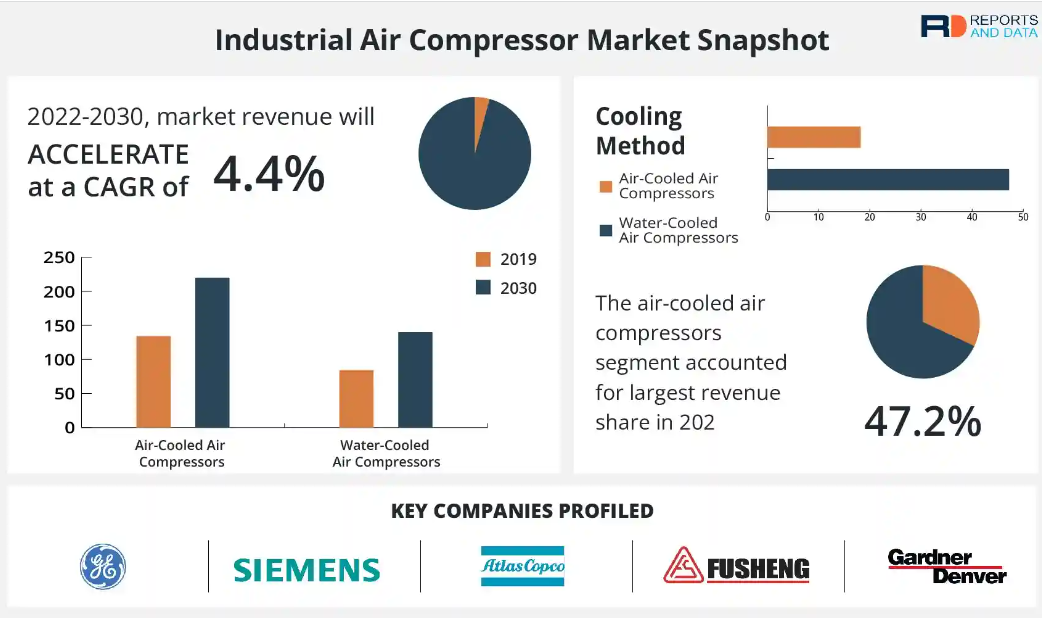 Rising demand for high-efficiency air compressors for critical industrial operations is driving industrial air compressor market revenue growth.
New York, June 23 2022 The global industrial air compressor market size is expected to reach USD 53.88 Billion in 2030 and register a revenue CAGR of 4.4% over the forecast period, according to the latest report by Reports and Data. Increasing applications in the power generation industry for starting gas turbines and controlling equipment emissions is one of the crucial factors driving industrial air compressor market revenue growth.
Industrial air compressors have several advantages over electric and hydraulic power due to their capability to offer maximum flexibility, safety, and have fewer maintenance charges. In addition, industrial air compressors have fewer moving parts than electrical and hydraulic power systems, which eventually reduces equipment downtime. However, air supplied into the system requires special treatment as any contamination can significantly damage supply pipes by corroding them, which in turn, hampers power output.
In addition, high initial cost of procuring and installing modern rotary screw compressors is a major restrain for market growth. These compressors must be serviced and maintained regularly to function properly. Moreover, increased complexity of system design and operation necessitates deployment of skilled and experienced operators to ensure system's smooth and trouble-free operations. Also, scheduled maintenance of compressor machine and proper supervision of complex system raises process maintenance costs, in turn, reducing profitability.
Get PDF Sample of Report @ https://www.reportsanddata.com/download-summary-form/5103
Some Key Highlights from the Report
On November 9, 2021, Atlas Copco AB, headquartered in Stockholm, Sweden and a leading manufacturer of compressors, vacuum solutions, generators, pumps, power tools, and assembly systems, announced to acquire S.T.E.R.I. srl (STERI), a leading Italian service provider and distributor of compressor equipment. S.T.E.R.I. srl (STERI) primarily serves industrial companies in Italy's Piedmont and Valle d'Aosta regions with compressors, filters, and ancillary equipment. Through this acquisition, Atlas Copco AB will also be able to expand its market presence in industrial areas in northern Italy.
The reciprocating air compressors segment accounted for a moderate revenue growth rate during the forecast period. Reciprocating air compressor is a compressor system that draws air into a chamber and compresses it using a reciprocating piston. This compressor system is used in automotive service, dental service, and many others due to its numerous benefits. For example, in the agricultural industry, reciprocating air compressors are used in conveyors that transport feed or grain between silos and other locations.
The pressure lubricated segment revenue is expected to grow at a steady rate during the forecast period. Pressure-lubricated air compressor is driven by a crankshaft and has a pump that helps to lubricate crank, wrist pin, and other parts of the system. This slows down deterioration of system components, particularly wrist pin, which is exposed to heat and requires a constant supply of oil to function properly. To improve equipment reliability, pressure-lubricated air compressor systems are commonly used in industries such as aerospace, automotive, refrigeration, and others. Although, pressure-lubricated air compressors require extensive repair and maintenance, they are known for their durability.
The water-cooled air compressors segment revenue is expected to grow at a moderate rate during the forecast period. Water-cooled air compressors aid in cooling substances present during compression process by effectively utilizing a liquid coolant from an external unit. This type of equipment consists of a shell and tube exchanger and is mostly used in machines that have higher horsepower. It also enables industries to re-utilize water from compressor for showering, washing, or cleaning. However, this type of compressor requires high-quality cooling water to function efficiently. Due to this, industries need to install a cooling tower and closed-loop system to filter water before getting into the system, which thereby also increases equipment lifespan.
The healthcare segment accounted for a moderate revenue share in 2021. Many systems in medical facilities are typically powered by industrial air compressors, which are specifically designed to meet daily requirements and operate continuously. Furthermore, medical air compressors are used to provide clean air to patients who are sedated or having difficulty breathing on their own. These compressors are also used to power equipment used in blood analysis, chiropractic tables, mammograms, x-rays, oxygen generation, nitrogen generation, and many other applications.
The North America market is expected to grow at a steady revenue rate during the forecast period. One of the key factors driving growth in this region is increasing demand for portable industrial air compressors by various end-use industries. Furthermore, countries such as U.S. and Canada, have a large number of medical facilities that rely heavily on air compressor systems for their daily operations, which in turn, is driving demand for industrial air compressors in this region.
Companies profiled in the global market report include Siemens Energy, General Electric, Atlas Copco, Ingersoll Rand, BOGE Compressed Air Systems GmbH & Co. KG, Doosan Portable Power, Fusheng Co., Ltd., Gardner Denver, Sulzer Ltd., and Hanbell Precise Machinery Co., Ltd.
For the purpose of this report, Reports and Data has segmented the industrial air compressor market based on type, lubrication method, cooling method, end-use, and region:
Type Outlook (Revenue, USD Billion; 2019–2030)

Rotary Air Compressors
Reciprocating Air Compressors
Centrifugal Air Compressors

Lubrication Method Outlook (Revenue, USD Billion; 2019–2030)

Oil-Lubrication
Oil-Free Technology
Pressure Lubricated

Cooling Method Outlook (Revenue, USD Billion; 2019–2030)

Air-Cooled Air Compressors
Water-Cooled Air Compressors

End-use Outlook (Revenue, USD Billion; 2019–2030)

Oil & Gas
Food & Beverages
Manufacturing
Healthcare
Power Generation
Construction & Mining
Others
Request For Custom Research @ https://www.reportsanddata.com/request-customization-form/5103
Regional Outlook (Revenue, USD Billion; 2019–2030)
S.
Canada
Mexico
Europe
Germany
UK
France
Italy
Spain
Sweden
BENELUX
Rest of Europe
Asia Pacific
China
India
Japan
South Korea
Rest of APAC
Latin America
Brazil
Rest of LATAM
Middle East & Africa
Saudi Arabia
UAE
South Africa
Israel
Rest of Middle East & Africa
Browse Latest Published Report:
Soundproof Curtains Market By Type (Sound Insulating, Sound Blocking, Noise Reduction) By Material (Glass Wool, Natural Fibers, Rock Wool), By End-Use (Industrial, Commercial, Residential), and By Region Forecast to 2030
Industrial Fasteners Market, By Raw Material (Metal, Plastic), By Type (Externally Threaded Fasteners), By Application (Automotive OEM, Machinery OEM), By Product Type (Nuts & Bolts, Screws, Nails, Washers), and By Region Forecast to 2030
Media Contact
Company Name: Reports and Data
Contact Person: John Watson
Email: Send Email
Phone: +1-212-710-1370
Address:40 Wall St. 28th floor
City: New York City
State: NY 10005
Country: United States
Website: https://www.reportsanddata.com/report-detail/industrial-air-compressor-market