PlacidWay Medical Tourism Adds over 100 New Healthcare Providers Post-Covid in 2022
PlacidWay continues to expand its digital platform providing hybrid medical tourism experience to patients and providers globally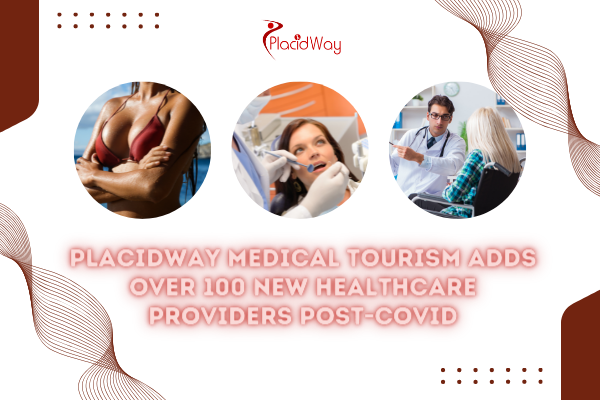 Denver, Colorado – Jun 8, 2022 – PlacidWay, a premier digital medical tourism platform, continues to expand its global medical provider network with the addition of over 100 medical centers. As the demand for medical travel rises post-covid, there is a renewed sense of optimism with health and wellness providers globally.
Elective procedures such as plastic surgery, dental treatment, regenerative medicine, bariatric surgery, and fertility tourism continue to lead the demand for medical travel from developed countries.
Critical care such as oncology, spine, cardiac surgery, and transplants is recovering slower as immune-compromised patients started to reconsider such medical travel from countries with limited local expertise or technologies and international hospitals rebuild their capacity to accept non-covid patients.
"We are excited to see optimism in the medical tourism industry after 2 years of lock-downs, travel restrictions, and general fear that covid created," says Mr. Pramod Goel, Founder of PlacidWay. "Many medical centers are realizing that post–pandemic medical travel will be different, and consumers are becoming more digitally savvy. Our hybrid medical tourism platform continues to grow as a result of cutting-edge digital advances that help overseas patients travel more smoothly."
The current process of acquiring international patients is complex and outdated. PlacidWay's innovative digital solutions are transforming the entire cycle of Education and Marketing, Remote Online Consultation, In-Patient Treatment, and Aftercare.
With the addition of over 100 new health and wellness centers, PlacidWay will continue to shift its focus to providing a secure and reliable platform where consumers can have a transparent and trusted system. Medical centers can differentiate themselves in this extremely competitive market by utilizing a comprehensive platform that includes digital marketing, CRM, and Omni-communication channels.
About PlacidWay:
PlacidWay is a U.S.-based digital medical tourism platform with 1000s of renowned medical and wellness centers from over 50 countries worldwide. PlacidWay has been assisting healthcare practitioners in connecting with international patients since 2007. Detailed information is available at placidway.com.
Media Contact
Company Name: PlacidWay® Medical Tourism
Contact Person: Pramod Goel
Email: Send Email
Phone: +1.888.296.6664
Country: United States
Website: placidway.com