Beta Glucan Market Size Forecast to Reach USD 2,108.8 Mn by 2032|FMI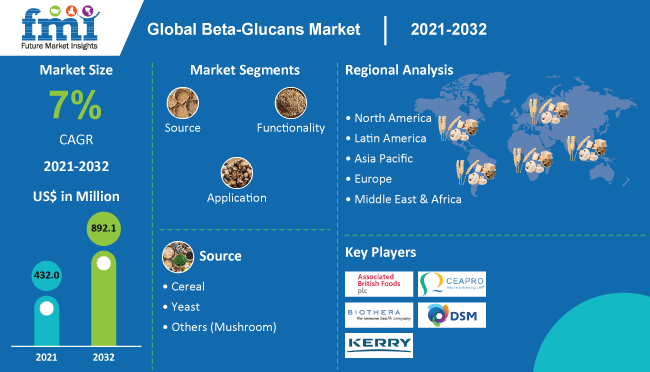 The global Beta Glucan market is expected to be valued at USD 1,200 million in the year 2021, growing to about USD 2,108.8 million by the year 2032, with a CAGR (compound annual growth rate) of 5.8% over the analysis period. Beta Glucan is predicted to grow rapidly due to a number of growth-promoting variables, including a shift in customer preferences favoring vegan diets or plant-based foods, an increase in public health consciousness, and the availability of healthier products that provide customers with improved nutrients.
As demand has switched from commercial food products to nutritious food, food supplements, and superfoods, customers have become more aware of health and engaged in preserving that through healthy lifestyles. Customers are increasingly aware of food products and read nutritional info and product ingredients more carefully. Increasing demand for healthy meals and supplements has resulted from this change in consumer behaviour, driving a slew of completely new, non-genetically engineered, and organically as well as naturally grown food products to hit the market. As individuals become increasingly concerned about safety, health, and fitness, the market for versatile beta-glucan is expected to increase in the coming years.
Request a report sample to gain comprehensive market insights @ https://www.futuremarketinsights.com/reports/sample/rep-gb-489
Key takeaways:
Beta-glucan meals and supplementation are heart-healthy and can help with anything from memory development to preventing cancer. As per research, it has anticancer, antibacterial, anti-allergic, and immune-enhancing characteristics. It has the capability to reduce cardiovascular disease risk.
The market for Beta Glucan is expected to be valued at USD 29 Mn in the year 2021 and is estimated to have a robust growth registering a CAGR of 10.9 % and reaching a colossal market value of USD 132 Mn by the year 2027.
China is going to lead the Asian market as it enjoys a market share of 32% of the region with an approximated market value of USD 76.8Mn.
With the rising cases of cardiovascular diseases, obesity, and diabetes in the UK, the demand for beta Glucan has grown significantly. Currently, the UK holds a market share of 22% in the region with a market worth of USD 81.8Mn
"The Beta Glucan market has grown significantly due to the rising cases of cardiovascular diseases, increased cholesterol levels, obesity, and diabetes. Various promoting factors like increasing health awareness among consumers and demand for functional foods that could help them in achieving a healthy diet has led to the booming growth of beta Glucan Market," says a lead analyst at Future Market Insights.
Ask An Analyst @ https://www.futuremarketinsights.com/ask-question/rep-gb-489
Competitive landscape:
The Growth of Beta Glucan can be attributed to the vast range of applications from being a functional food to applications as a major component in the pharmaceutical industry and cosmetic market. The increasing reach in terms of wide application will boost the growth of this segment market in this decade.
Personal care and cosmetics firms use beta-glucan, which is generated from oats, in their products. Beta-glucan helps to repair complexion by exfoliating the layer of the skin and providing keratinocytes with protective effects. Evonik, for instance, has produced a natural biopolymer produced from beta-glucan that provides excellent skin protection. Tego Cosmo LSG is a beta Glucan that is found naturally, that has a number of applications in cosmetic industry products. It has minimal thickening characteristics and can be employed at a high dose in cosmetics compositions given the low molecular mass.
The mushroom's anti-allergic, anti-tumor and anti-cholesterol properties make it an effective remedy for serious illnesses such as AIDS, cancer, and skin issues. Mushrooms are a strong choice for pharmaceutical and nutraceutical applications since their fiber content helps to avoid cardiac disease.
Contact Sales for Further Assistance in Purchasing this [email protected] https://www.futuremarketinsights.com/checkout/489
Get More Valuable Insights
Future Market Insights, in its new offering, provides an unbiased analysis of the Beta Glucan presenting historical demand data (2016-2020) and forecast statistics for the period from 2021-2031.
By Source:
Yeast
Cereal
Others (mushrooms)
By functionality:
Insoluble beta-glucan
Soluble beta-glucan
By Application:
Bakery Products
Food & Beverages
Cosmetics & Personal Care
Dairy & Frozen Products
Health & Dietary Supplements
Others (Animal Feed)
By Region:
Latin America
North America
Europe
The Asia Pacific
Africa
The Middle East
About Future Market Insights (FMI)
Future Market Insights (ESOMAR certified market research organization and a member of Greater New York Chamber of Commerce) provides in-depth insights into governing factors elevating the demand in the market. It discloses opportunities that will favor the market growth in various segments on the basis of Source, Application, Sales Channel and End Use over the next 10-years.
Media Contact
Company Name: Future Market Insights
Contact Person: Ankush Nikam
Email: Send Email
Phone: +4420 8123 9659
Address:3rd Floor, 207 Regent Street
City: London
Country: United Kingdom
Website: https://www.futuremarketinsights.com/reports/beta-glucans-market